The aim of the Science Department is to develop students' knowledge and understanding of the world around them through an investigative and relevant curriculum that fosters an awareness and appreciation of science to improve students' life chances.
To provide a curriculum that is stimulating and relevant, reflecting the changing nature of science and extending students' horizons through opportunities outside the classroom.
To develop students' ability to analyse problems and research and evaluate information critically through investigative work.
To encourage all students to form their own ideas about the world they live in and so become independent thinkers.
To develop students' spiritual, moral, social and cultural awareness so that they are prepared for their role in society.
To ensure that all students meet their academic potential by removing barriers that undermine learning.
Our Teachers
Head of Department – Miss S Mahmood
Key Stage 3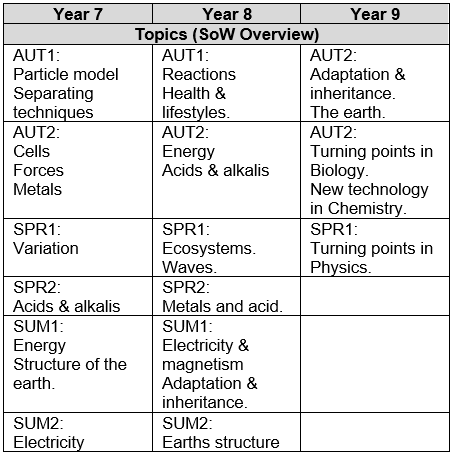 Key Stage 4
Year 10

Year 11

Exam Specification
KS3
Years 7 and 8 – Oxford Science; internal assessments.
KS4
Years 9 and 10 Edexcel Combined Science; 1SCO
Year 11
Edexcel GCSE Science; 2SC01
Useful Resources